LINDUNG DIRI, LINDUNG SEMUA
COVID-19 IMMUNISATION PROGRAMME BY PEJABAT KESIHATAN DAERAH (PKD) PETALING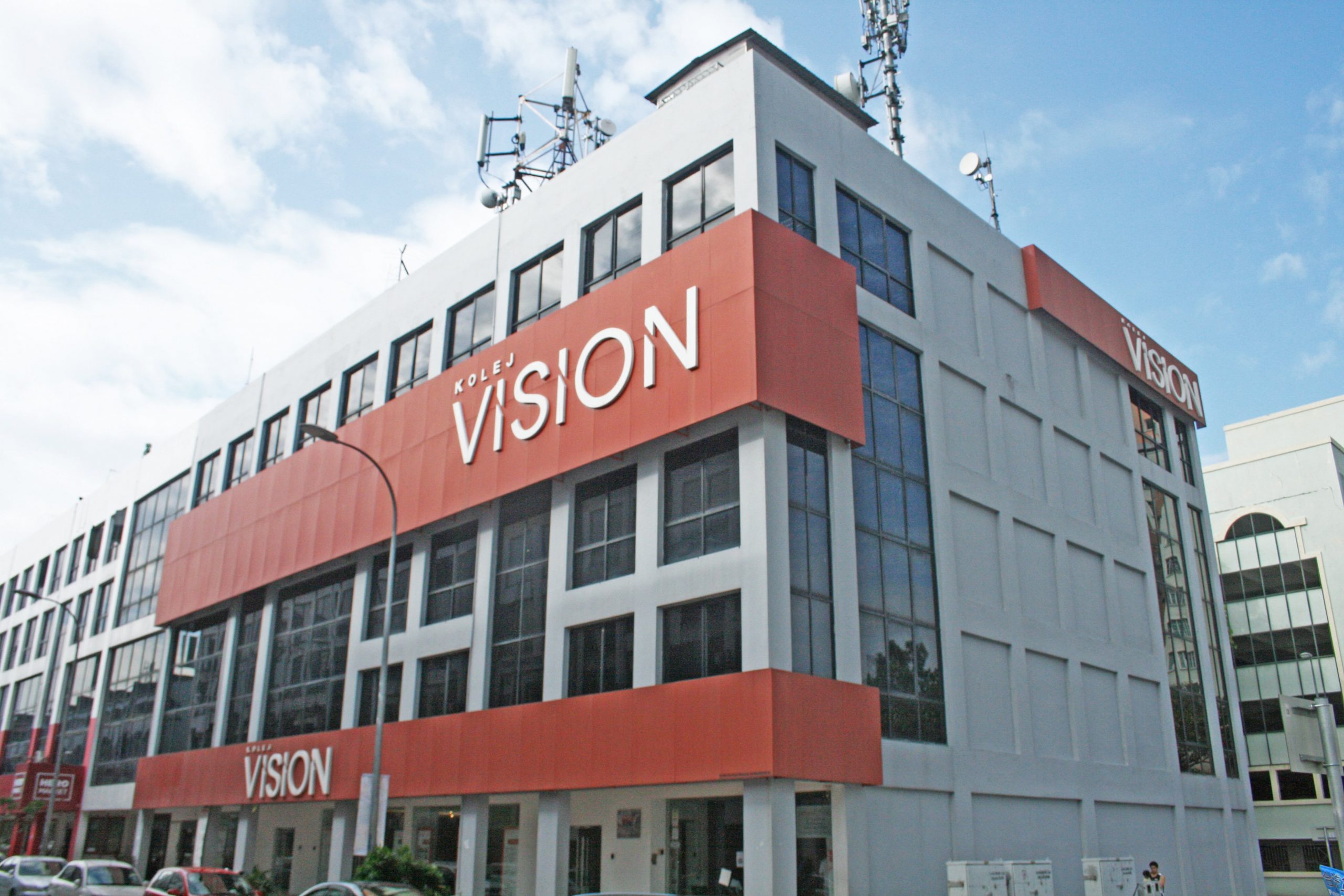 WHERE IS THE VENUE?
Vision College, Kelana Jaya, Selangor.
HOW TO GET HERE:
By car: Use Waze or Google Maps to 'Vision College'
By e-hailing or drop-off: Drop-Off at 'Vision College' (Recommended)
By Public Transport:
LRT :  Take LRT Kelana Jaya Line to Taman Bahagia and Take the shuttle bus (PJ 03) to stop at SS 5c Kelana Jaya 
VACCINE GUIDE
WHAT SHOULD I DO?
1. Register to be vaccinated via
2. Wait for the vaccination appointment date and details via MySejahtera. Ensure that the MySejahtera app push notification is activated for you to receive details on the appointment
Further information can be found at https://www.vaksincovid.gov.my/en/
WHAT SHOULD I BRING?
Your Identification Card.
The phone with your MySejahtera App.
If you have any medical conditions, kindly bring along your relevant medical letter or medical report from your doctor, as well as a list of your current medication(s).
2 copies of the vaccine consent form (can be downloaded on MySejahtera app).
Download the consent form at the bottom below
WHAT SHOULD I WEAR?
You may opt for a t-shirt with a sleeve that can be easily folded up for the vaccination and a comfortable pair of pants.
We will advise to bring along a jacket as it might get cold while waiting in the hall.
Direction to Vision College
FAQS VACCINATION AT VISION COLLEGE
Can I walk-in to receive the vaccination?

No, the COVID-19 vaccination is by appointment only. To receive yours, you may register via the MySejahtera App and await further updates from the app.

Can I choose Vision College as my preferred Vaccination Centre?

Your vaccination center will be designated by the Ministry of Health upon registration via MySejahtera.

What time does the vaccination start?

You may refer to your appointment time which will be notified via the MySejahtera App. You are required to arrive at your designated Vaccination Centre at least 30 minutes prior to your appointment time.

How early do I have to reach before my appointment?

You are required to arrive at your designated Vaccination Centre at least 30 minutes prior to your vaccination appointment time.

What will happen if I cannot make it on time for my appointment?

You are strongly advised to show up for your appointment. However, if you are unable to attend, you may launch the MySejahtera app, click on "Covid-19 Vaccination", click on "Covid-19 Vaccine Information" and click on "Helpdesk" to get help. Or, you may also contact the registration hotline at 1800-888-828 for assistance.

How long is the vaccination process?

It may take up to 45 – 60 minutes per person as you will need to go through multiple checkpoints before and after vaccination.

What are the checkpoints or steps to complete when I arrive at the Vaccination Centre?

Upon arrival, proceed to:

Section 1 (Pre-Registration) :
● Update Covid-19 status
● Appointment confirmation
● Temperature check
Section 2 (Registration & Counselling) :
● Registration in MyVAS system
● Consent Confirmation
Section 3 (Vaccination) : 
● Vaccination
Section 4 (Collect Vaccine Card) : 
● Vaccination Confirmation
● Collect your Vaccine Card
Section 5 (Observation):
● Observation for any allergies or reactions

What should I bring for the vaccination?

Your Identification Card, 2 copies of the vaccine consent form (can be downloaded on MySejahtera app) and the phone with your MySejahtera App. If you have any medical conditions, kindly bring along your relevant medical letter or medical report from your doctor, as well as a list of your current medication.*For more information, kindly refer to your MySejahtera App.

Are there any restrooms or washrooms available in Vision College?

Yes, restrooms are available for patients.

What should I do if I experience a reaction after receiving the vaccination?

Should you face a reaction after the vaccination, please refer to the table below for immediate action:

Pain and redness on or around the area of the injection

If needed, you may take Paracetamol

*According to the recommended dosage by your medical doctor

Fever, shivering, headache, joint and muscle pain

Take some rest to recover

This will heal in few days' time

Signs of bad reactions that may occur:
– Breathing difficulties
– Swollen face and throat
– Rapid/fast heartbeat
– Bad rashes on the whole body
– Weakness or feeling dizzy

Get emergency treatment from the nearest hospital or clinic

Please report any side effects after receiving COVID-19 vaccine through MySejahtera application or inform the nearest clinic or hospital immediately to receive treatment. You can also make a report online at the website at www.npra.gov.my.

Should you have further questions on the above, kindly refer to https://www.vaksincovid.gov.my/en/
NEAREST CARPARK TO THE VACCINATION CENTRE (VISION COLLEGE)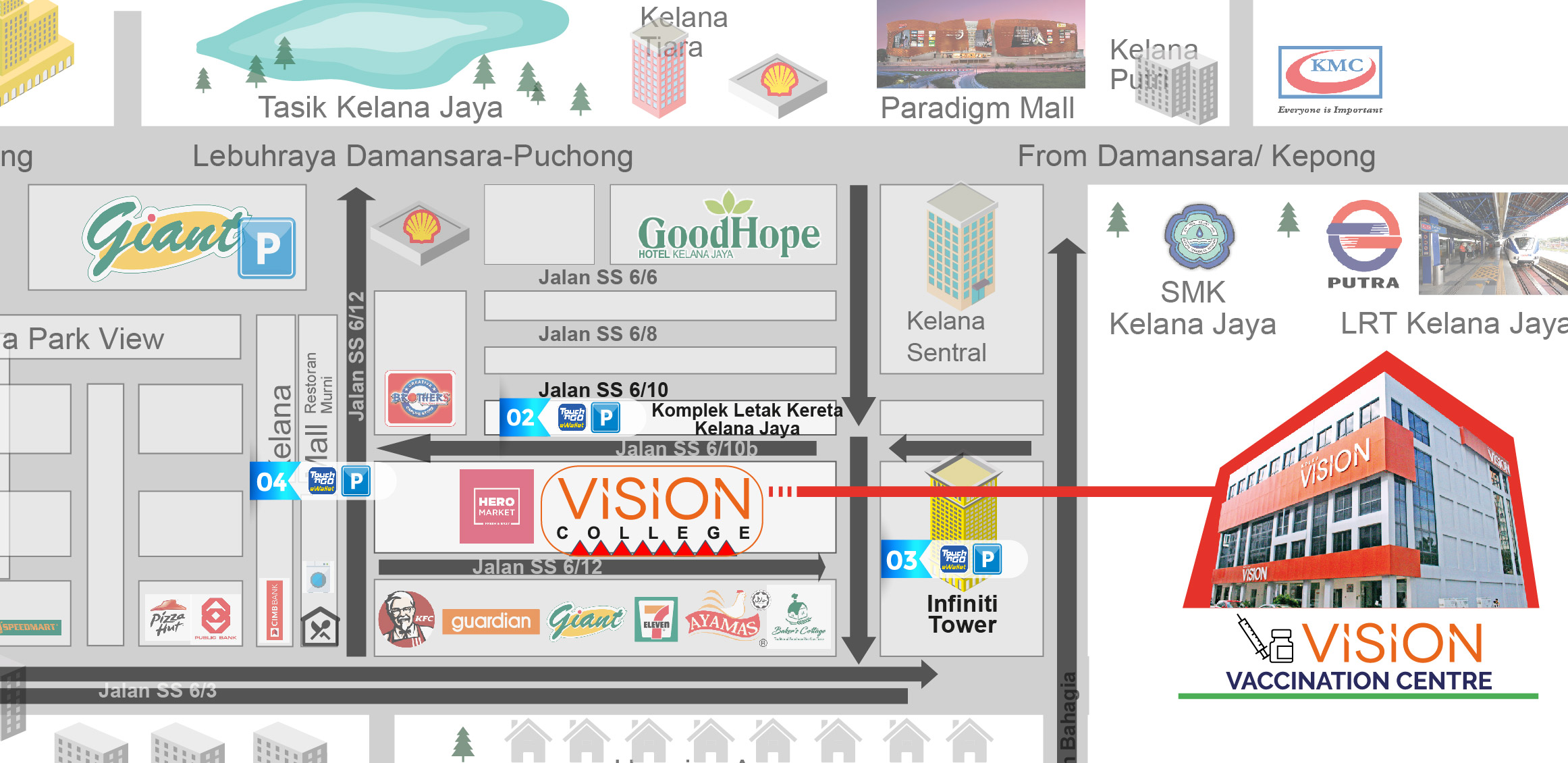 1. Parking Lots
are in Yellow Box


RM 0.60 / hour
Pay with Smart Selangor APP


2. Komplek Letak Kereta Kelana Jaya
lot 3684, Jalan SS 6/12, Ss 6, 47301 Petaling Jaya, Selangor

RM 0.80 / hour
Touch n GO only 

3. Inifnity Tower,
Jalan SS 6/3, Ss 6, 47301 Petaling Jaya, Selangor

Monday – Friday
First hour or part thereof – RM 2.20
Every subsequent hour or part thereof – RM 2.20
Flat rate (6pm – 6.59am) – RM 2.20

Saturday, Sunday & Public Holiday
Flat rate (7am – 6.59am next day) – RM 2.20


4. Kelana Mall Parking,
Kelana Mall, Ss 6, 47301 Petaling Jaya, Selangor



First hour or part thereof – RM 1.00
Maximum rate per day – RM 7.00