Vision Diagnostic Centre offers a wide range of high quality medical diagnostic services including Ultrasound, X-ray & Mammogram. With cutting edge imaging technologies, comfortable patient care facilities and experienced healthcare professionals, we aim to provide our patients with a personal approach to care and attention.This diagnostic centre also doubles as a training centre for our students in the field of ultrasonography and medical imaging as they have the opportunity to gain valuable real life experiences and insights from our in-house doctor and senior staff.
What We Do
Our preventive health screenings which are aimed at early detections of various health ailments, are designed by doctors and administered by trained professionals.
As you get older, your risks for stroke and cardiovascular diseases naturally increases — even if you maintain a healthy lifestyle. The National Stroke Association states that your risk of stroke doubles every decade after age 55.
These changes — which greatly increase your risks — often occur without any symptoms. Therefore, it is advisable and crucial for one to attend regular screenings.
A preventive ultrasound screening may identify health problems at the early onset which could potentially save your life.
Health Screening Services
All of our health screenings are easy, painless, affordable, and convenient. Using state-of-the-art equipment, our trained professionals strive to provide optimal medical care to our patients.
There are 3 types of preventive health screenings.
General X-Ray
Ultrasound screenings
Mammography
General X-Ray
X-ray is one of the most common form of medical imaging. It can be used to image the lungs, the abdomen, or the bones and joints. A digital X-ray will enable ease of image transmission and storage for future references. Clinicians will be able to view the X-ray images on their computer and will be able to digitally manipulate the image for improved views.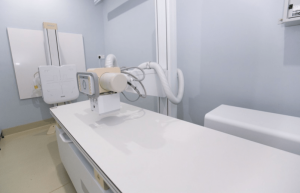 Ultrasound
Ultrasonography does not involve exposure to radiation, and is generally used to examine the body's internal organs, including the heart, and in monitoring pregnant women and their unborn child.
We provide a wide range of ultrasonography services, for example:
Antenatal scans, including 3D scans
Breast scans
Pelvic scans
Echocardiography (ECHO)
Carotid artery scan
Doppler studies
Various body part scans
Maklumat Untuk Pelanggan Yang Telah Dirujuk 
Pemeriksaan Ultrasound adalah percuma untuk pesakit yang datang dari klinik ini.
Pemeriksaan dijalankan oleh pelatih-pelatih Sonographer Kolej Vision dan laporan akan dihantar kepada doktor yang merujuk. Pemeriksaan dijangka akan mengambil masa dua jam.
Pemeriksaan Ultrasound untuk organ-organ lain (selain daripada yang dirujuk oleh doktor) akan mengambil masa dan hanya akan dilakukan jika anda meminta
Jika anda tidak ingin pemeriksaan Ultrasound dijalankan di Kolej Vision, sila maklumkan kepada doktor dengan segara supaya anda boleh dirujuk untuk pemeriksaan di hospital kerajaan.
Pemeriksaan Ultrasound adalah satu keadah pengimejian perubatan yang selamat dan tidak melibatkan sinaran radiasi.